On this page, you will see a different Snow Angel offspring each month. Of course, everyone thinks their furry family member is the fairest of them all LOL! We get lots of photos from our extended Snow Angel families. Some are professional quality and just down right beautiful. Others are hilarious and will make you laugh. It is quite entertaining to see what people and their dog(s) will do to get that 'just right' frozen moment in time.
For June 2017,  we have selected Carson and Charlotte as our featured Angels Of The Month.   
Here is what Carson and Charlotte's family had to say about them:
We can't imagine our family without Carson and Charlotte!  Carson loves playtime, and always has one of his favorite toys in his mouth (sometimes, even when he sleeps!). He is sweet, gentle and when he looks at us with those big brown eyes…our hearts melt!  When Carson was about a year old, we decided that we HAD  to have another Snow Angel!  I always say that Snow Angels are like potato chips, because you can't have just one!  Charlotte is the perfect partner for Carson.  She is smart, loving and has a big personality!  She is our "talker" and she is definitely a "daddy's girl".  Charlotte loves to get as close to my husband and possible to tell him how much she loves him!  We love to take them with us whenever we can, especially to our local French farmer's market on the weekends during the summer.  These two beautiful Snow Angels attract quite a crowd wherever we go!  People are always eager to come over to pet them and find out about their breed.  We love to brag about our fur-babies… and Carson and Charlotte love the attention!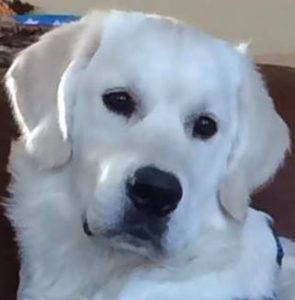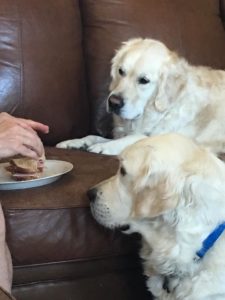 Below, find past Angel's Of The Month
Please note, the previous monthly 'Angel' photos will be placed below in a carousel. There will be more as the months go by!